Application Fees
Application fee: $10
Individual Workshop fee: $7250/$7750 private room, shared bath/private room and bath Includes workshop fee, lodging for two 4-night, 5-day residency sessions, all food, and year-long phone conferences.
Deposit: $500 due Wednesday, December 27, 2017 (Deposits holds your place and are non-refundable)
Final payment: due January 17, 2018
Materials Requested
2018 Jane Vandenburgh Workshop Application Form
A short (one to two page) description of the project.
A writing sample of 10 to 20 pages.
What To Expect
Anyone wanting to write a book-length work soon faces two critical questions:
Where do I start? then How do I keep going?
Toward those ends the Djerassi Yearlong provides:
Two 5-day residences bracketing a year's work
Eleven monthly deliveries of from 20 to 40 ms pages
Eleven monthly one-on-one phone conferences
Instructor Bio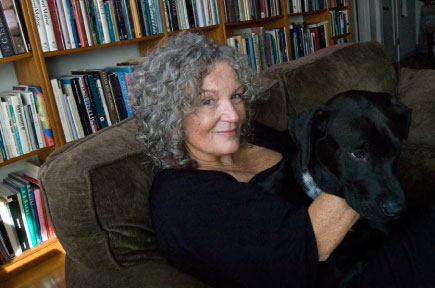 Jane Vandenburgh is author of two critically acclaimed novels, Failure to Zigzag and The Physics of Sunset and has published two books of memoir, A Pocket History of Sex in the 20th Century and The Wrong Dog Dream, all in print and available.
She completed an MA in literature and creative writing at San Francisco State and has taught both graduate and undergraduates in the writing programs of U.C. Davis and the George Washington University, in Washington, DC. She was recently Distinguished Writer-in-Residence at Saint Mary's College in Moraga, California. She was awarded the 2010 Mildred Sherrod Bissinger Memorial Endowed Fellowship by the Djerassi Resident Artists Program.
Architecture of the Novel, her book on the craft of structuring the longer narrative, came out in 2010; she's currently working on the companion volume, Anatomy of the Memoir. Her students have had or are soon to have novels, books of stories and works of personal nonfiction on wide-ranging themes published by literary and commercial houses.
A fifth-generation Californian for whom both place and family play important roles, Jane Vandenburgh lives in the San Francisco Bay Area.
www.janevandenburgh.com