Workshop Fees
Application fee: $10
Individual Workshop fee: $1600/$2100 private room, shared bath/private room and bath
Special couples rate: $1300 each (shared room/bed)
Deposit:  $500 due by June 27, 2018 (Deposits holds your place and are non-refundable)
Final payment: due by July 11, 2018
Application Materials Requested
2018 Robert Buelteman Workshop Application Form
A succinct statement about what you intend to accomplish for yourself in this workshop.
A succinct description of what courses or experience you have in photography.
A short Biographical Statement or Curriculum Vitae up to two pages in length.
An accurate list of the imaging equipment you intend to bring to the workshop.
Workshop Materials
Applicants are responsible for bringing the image making tools as described in your equipment list. The Program will provide all other imaging materials for the workshop. The Artist's Barn at Djerassi has a wonderful studio and darkroom that we will use during the workshop.
Suggested Equipment: Digital camera and personal computer, NightCap Pro app for iPhonography, analog camera and film if so inclined, tripod, passion, curiosity, and a willingness to explore.
What to Expect
Because we will be touching on a number of techniques and subjects during our week together, the workshop should not be viewed as a course in mastery, but rather an exploration of options, analog and digital, in examining landscapes both internal and external.
Our week of engagement and play at the Program will provide participants with the opportunity to develop their creative vision by exploring photography in ways that are sometimes available only in the absence of distractions. The Artists Ranch, located in a place of exceptional beauty and quiet, is ideal for this kind of adventure.
We will meet daily to share the previous day's results and discuss the work for the day, focusing on craft and technique. Afternoons will be put aside for group and private exploration of the beauty of the Ranch. Evenings, either before or after our chef-prepared dinner, provide opportunities to discuss other aspects of the medium and to simply be together. We will also work under the night sky, weather permitting, exploring the heavens from our perch atop King's Mountain.
Robert Buelteman Bio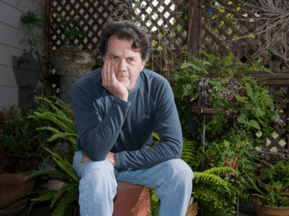 Robert Buelteman is a fine art photographer, speaker and instructor, and the author of fourteen collections of photography, four of which were published as monographs. In June of 1996, he was given a residency that resulted in the publication of his third book, Eighteen Days in June, which has since served as a fundraising vehicle for the Djerassi Resident Artists Program. His landscape work has received accolades from a diverse group of organizations including the Trust for Public Land, Santa Fe Institute, Public Utilities Commission of California, Natural Resources Defense Council, United States Congress, The Peninsula Open Space Trust, and the Poet Laureate of the United States of America, Robert Hass. Recently he was a guest at Stanford University's Jasper Ridge Biological Preserve, where he created a new collection of landscape works, Chasing the Light: Morning at Jasper Ridge.
In March of 1999, after twenty-five years making black-and-white landscape photographs, his desire to create a new distinction in photography led him to look beyond the traditional use of cameras, lenses, and computers. The resulting portfolio, Through the Green Fuse, titled for the eponymous poem by Dylan Thomas, fulfilled his desire to break down the wall between the worlds of contemporary art and photography.
After extensive exhibition in the United States, Canada and Europe, it has been the subject of over 60 reviews in 35 languages on six continents worldwide including Wired (USA), Geo (Germany), Outdoor Photographer (USA), View International (China), American Photographer (USA), L'illustré (Switzerland), Daily Telegraph (UK), Science for Children (Korea), Nuvo (Canada), and American Art Collector (USA). The original portfolio is now in the permanent collection of the Santa Barbara Museum of Art.
Buelteman is also an acclaimed speaker, presenting his work and creative philosophy at the California Academy of Science, Library of Congress, Commonwealth Club of California, Getty Research Institute, Denver Botanic Gardens, Stanford University, Santa Fe Art Institute, Golden Gate National Recreation Area, and at University of California Berkeley, San Francisco and Davis campuses.
Buelteman's art can be found in collections private and public, including Yale University Art Museum, Hotel Fontainebleau Miami, David and Lucile Packard Foundation, Santa Fe Institute, Xerox Corporation, Stanford Medical Center, Adobe Systems, Nikon Incorporated, Apple Computer, Genentech, and throughout California's Silicon Valley, which he calls home.