Details
Artists, welcome to Djerassi for hikes!
Like organizations worldwide, the COVID-19 pandemic has altered the Djerassi Program's ability to safely serve our artist community over the last year. As conditions ebb and flow, we are offering artists the opportunity to experience the landscape and the outdoor sculpture it has inspired.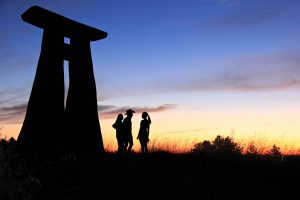 This is a special opportunity where groups of artists will be led by our volunteer docents on a journey to explore 30+ sculptures and installations. These hikes travel 2.5 miles with an elevation change of 300 feet over 3 hours. Join us and fellow artists in challenging one's creativity and fitness!
Artists hikes are free of charge and take place on the 2nd Friday of the month between March and November 2021.
These hikes are only offered by invitation to
Djerassi Resident Artists Program alumni
Accepted 2020 artists whose residencies were postponed due to the pandemic
Current 2021 applicants to the Djerassi Resident Artists Program who have submitted applications in SlideRoom
If you would like to hike at the Djerassi Program and do not fall into the above categories, please sign up for an equally special upcoming public hike.
Tickets for Artist Hikes are provided on a first come, first serve basis. Each artist can bring one guest for a total of 20 hikers on each excursion. Registration will open a few weeks before the start of each season.
Dates
Friday, March 12, 2021 - Friday, November 12, 2021