CANCELLED
Purchase tickets for Radius and NETWORK at the Djerassi Resident Artists Program here.
Radius is a site-specific improvisational performance, influenced by and inter-relating with the natural surrounds of the Djerassi Resident Artists Program landscape in the Santa Cruz Mountains and the urban oasis surrounding McEvoy Foundation for the Arts.
Performed by a group of experimental dancers and electronic musicians, the work aims to create a temporary zone governed by collaboration, mutability, and fluidity rather than hierarchy, power, and structure. Dancers and musicians are both responsive and generative in turn with inspiration and influence moving in both directions. The composition is collectively devised, continuously revealing emergent poetics within the stream of images, movements, and sonics. Responding to both harmony and dischord, Radius is a rehearsal of being with – with other people, with the land, with whatever comes next.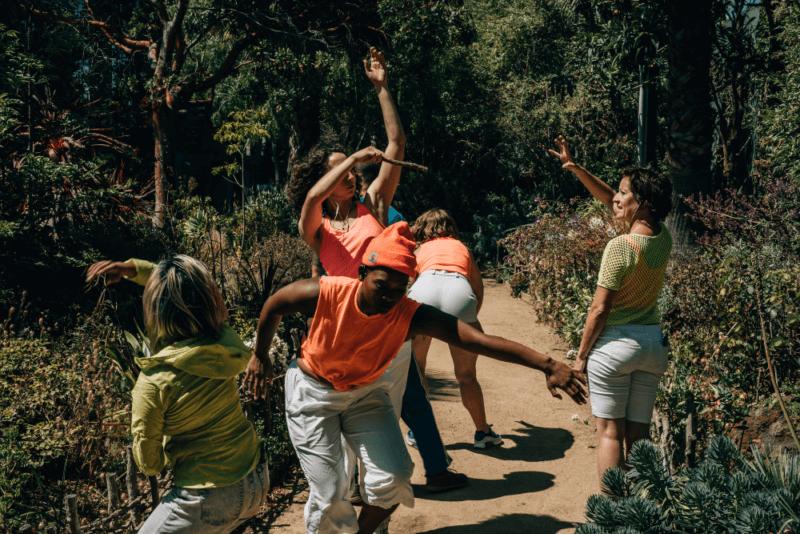 In conjunction with the Djerassi Program performance Radius, audiences will experience a showing of early research for NETWORK, a project exploring systems of communication, resource-sharing and survival employed in tree communities as a lens to consider human community building. NETWORK is being developed by Krista DeNio and Chloe Crotzer, currently in residence at the Djerassi Program, with a team of artists, scientists, and designers. toward a premiere at Djerassi Artists Residency Program in partnership with CounterPulse in Summer 2022.
Directed by 2021 Djerassi artist in residence Krista DeNio and co-created with a team of performers, scientists, land stewards and designers, working with trees and land, utilizing dance, theater and media design, to create a multi-dimensional, embodied experience, connecting audience participants with the site, themselves and one another. Together we create communal systems and strategies toward our own survival.
Event Timeline:
5-6:15PM: Audience Reception + NETWORK installation / activation
6:15-7:10PM: Radius performance
7:20-8:00PM: NETWORK showing + experience
Co-produced by KDMG, CounterPulse, Djerassi Residents Artists Program
Core Collaborators:
Krista DeNio (director, choreographer/performer), Chloe Crotzer (biologist, dancer), Rosemary Hannon (dancer, performer), Amy Cranch (dancer, writer), Heidi Erickson (dancer), Diana Lara (dancer), Phoenicia Pettyjohn (dancer), Bhumi Patel (dancer, writer), paige sorvillo (dancer, choreographer), Kristen Rulifsen (dancer), Elton Bradman (composer), Dr. Monica Gagliano (ecologist), Dr. Maria Dolores McVarish (architect, designer), Marc L'Italien (architect, map maker); Jonathan Cordero & Gregg Castro (Ramaytush Ohlone advisors)