Djerassi Program Announces New Leadership Team
Martin Rauchbauer, Jewel Carter & Sally Fay Bring Art, Technology & Diplomacy to Djerassi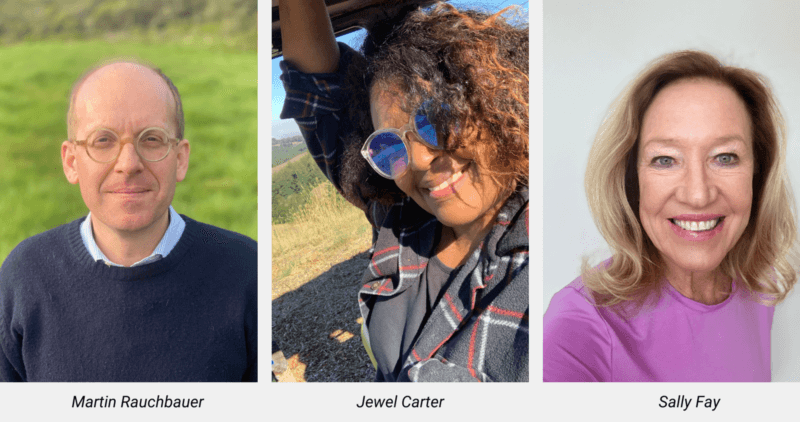 [WOODSIDE, CA]: The Djerassi Resident Artists Program announced a new leadership team today, signaling a new era for the legacy artist foundation after closing its doors for artists during the height of the COVID-19 pandemic. The organization is excited to welcome Martin Rauchbauer as Executive Director, Jewel Carter as Director of Artist Experience, and Sally Fay as the Chair of the Board of Trustees.
"We are writing a new chapter at Djerassi," says Martin Rauchbauer. "During their residency, we want our artists to become part of the important conversations of our time: from the very real threat of climate change, mass species extinction, and global pandemics to armed conflicts as well as the promises and concerns of frontier technologies. In this age of unprecedented global challenges, we believe in the power of art to have a meaningful impact on our planet. While we will continue to provide a unique experience for exploration, undisturbed contemplation, and discovery to leading artists and thinkers from around the world, we recognize that our proximity to Silicon Valley and our connection to untouched natural beauty make Djerassi unique among resident artist programs and position us as an international home of creation."
Looking back at a long-standing career at the intersection of art, technology, and diplomacy, Rauchbauer brings a unique vision for the future of the Djerassi Program. He has led and served at several cultural and diplomatic institutions around the world, including the Austrian Cultural Forums in New York and Mexico City, New York University's Deutsches Haus, and Open Austria, which he co-founded in 2016 as the official Austrian representation in San Francisco. As a diplomat, he served as the Austrian Consul in San Francisco, Dean of the San Francisco Consular Corps, and was appointed Austria's first Tech Ambassador in Silicon Valley. During his time in the Bay Area, Martin shaped the emerging field of tech diplomacy and co-created the transatlantic initiative The Grid at the intersection of art, technology, and policy making. He also co-founded Open Austria's Art + Tech Lab in San Francisco where he collaborated with leading art organizations in the Bay Area.
Jewel Carter joined the Djerassi Program as Residency Manager in 2021, where she managed the day-to-day program for the artists, allowing them the opportunity to make the most of their time on the ranch. In this new position, she expands that role to include the overall artist's experience from pre-selection to alumni engagement. Carter has filled the world with her own artistry, with over 25 years in the radio and voice-over industry, in addition to hosting and producing podcasts, this published author is currently finishing her third book and creating a podcast for the Djerassi Program. Before landing in California, her work has taken her across the world; she has lived in Europe, Indonesia, India, and China as well as visited over 40 countries on six continents. Her global citizenship combined with her artistry makes her the ideal person to lead the helm of artist experience at the Djerassi Program.
"Recent years have called on us to have a broad understanding of what it means to support and work with artists – before, during, and after their residency," says Jewel Carter, Director of Artist Experience. "I'm passionate about removing invisible barriers that prevent some artists from walking through our doors. Diversity is not only in who is selected, it is also reflected in who is a part of the review process as well as in how artists are supported after leaving the residency.
Board Chair Sally Fay has been a member of the Djerassi Program Board of Trustees since 2021. Supporting the arts, the environment, and doing civic work have been constant throughout Sally's path to Djerassi. After graduating from UC Berkeley, she moved to New York where she worked in film and television as a part of the production team that launched the arts cable channel ARTS, that later became A&E. In addition, Sally launched the Junior Committee for the Natural Resources Defense Council where she organized two James Taylor Benefit with her Co-Chair. In Boston, she served on the boards of Women in Film/Video/NewEngland; Boston Philharmonic Orchestra; USFund for UNICEF/New England. She co-chaired "Literary Lights" honoring authors to support the Boston Public Library. As a filmmaker, she made films for nonprofits, including NRDC, and the Max Warburg Courage Curriculum. As a writer, her work has been published in IMAGINE NEWS, Huffington Post, and the Nob Hill Gazette. As a native Californian, Sally is returning to her roots in Woodside at the Djerassi Program.
"Our mission of supporting artists and protecting the land and environment has never felt more essential than today. Martin Rauchbauer and Jewel Carter bring fantastic experience and vision to their leadership roles," says Sally Fay, Board Chair for the Djerassi Resident Artists Program. "I could not be more thrilled to be part of the Djerassi Team and its mission at this exciting time of its history."
The Djerassi Resident Artists Program is recognized internationally for its pre-eminence as an artist residency. The program's mission is to support and enhance the creativity of artists by providing uninterrupted time for work, reflection, and collegial interaction in a setting of exceptional natural beauty, and to preserve the land on which it is situated. The organization strives to provide the best possible residency experience for artists of superior talent from a diverse range of backgrounds and geographical locations.
###
If you would like more information about this topic, please contact Jadyn Petterson-Rae at jpettersonrae@djerassi.org